The full title of the book is Colloquial Latvian: The Complete Course for Beginners by Dace Prauliņš and Christopher Moseley. Published before 2000, it has been around for quite a while.
The author of this book is not a native speaker but has a wife with a Latvian first name. Many native Latvians helped prepare this book and it was tested on at least one person who learned Latvian with this book.
This course aims to provide a working knowledge of the contemporary Latvian language.
The new edition, however, is
Specially written by experienced teachers for self-study or class use, the course offers a step-by-step approach to written and spoken Latvian. No prior knowledge of the language is required.
Take a look at a typical lesson and excerpts of real reviews below to see how it does.
It is interesting to note that the author is teaching Latvian at University College London and they're using this book in the course.
Pros
this book explains Latvian grammar, unlike other books about Latvian
simplifies grammar concepts (short, long, mixed conjugations instead of types and subtypes, ignores the instrumental case, like it should)
provides cultural information
very comprehensive
Cons
not completely beginner friendly: no explanation of grammar terms, you're thrown into cold water right away
lack of practical vocabulary
Typical lesson
At the beginning of each lesson, there is a summary of what you should know by the end of the lesson.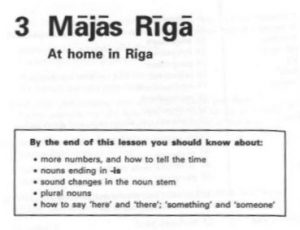 Then you get to listen to the first dialogue.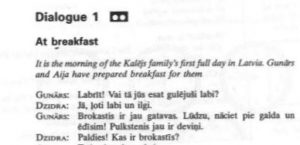 And learn the vocabulary.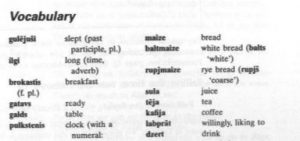 Multiple sections of Language points follow that explain various bits of Latvian grammar.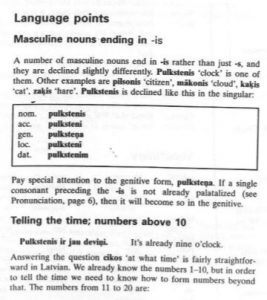 There's another dialog and some exercises.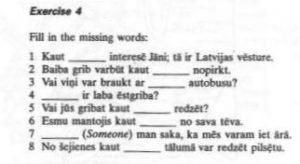 Finally a reading passage with an audio recording.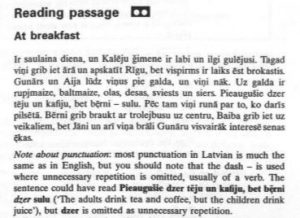 Reviews
Here are excerpts of what other learners are saying about this book.
It looks like it's a bit too advanced for complete beginners:
It drops you into very advanced grammatical concepts very early on (I think perfect tense is covered in chapter 2)

I did not find this course to be very helpful to an absolute beginner.

This book is too advanced for a beginner and too simple for anyone who is ready for its content.

This book was confusing for me, a beginner, and within ten days I returned it for a refund.

I really do want to learn to speak Latvian but this book is way beyond me.

The book does a terrible job introducing the beginner to Latvian. It throws words at you in the first chapter like accusative and nominative and genitive and dative, like I am supposed to know what it is talking about.

I do recommend the "Teach Yourself"-book instead.

I speak 8 languages … it would be a great challange to study Latvian but….. not with THIS book.
Some like that the story that is used throughout the book is relatable:
the theme is refreshing, too- the dialogues involve a family of Latvian origin living in Australia that goes back to the old country to rediscover its roots after Latvia regains its independence

The book follows a story of Latvian Australians coming to visit relatives and seeing the sights of Latvia and can, from this perspective, provide insight for those who don't know a lot about Latvia.

Buy this pack and feel like you were in a Latvian family.

For those of us who are of Latvian descent, this is a great way to recover our Latvian language heritage. Well done…to the authors.
But some object to the style used in this book:
This course attempts to instruct by having you be an outside observer to situations, rather than having you learn as a direct paricipant.

I guess when it comes down to it I wonder why I'm learning Latvian from a Brit/Aussie?
Many complaints about the lack of practical vocabulary:
There isn't a logical progression of vocabulary

There is little vocabulary building, and too few practical phrases presented

Furthermore, there aren't a lot of instantly accessible phrases that beginners would need to know in order to survive.

but I would like to be able to ease my way into the culture by being able to communicate in some basic everyday situations. For example I would like to be able to hail a taxi, order coffee, or buy grocieries.
People like that the book provides some cultural information:
There is good inclusion of cultural information — actual maps of riga to learn directional vocabulary, newspaper ads, excerpts from Raina or dainas

The thing the book is good at is providing cultural information so that a newcomer gets a sense of the place and the people.
But perhaps the book would be more successful if it had used the space dedicated to cultural information for explaning grammar terms instead.
Table of Contents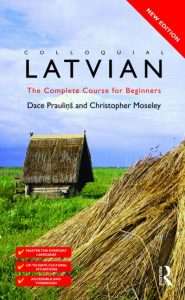 The sounds of Latvian.
1. At Riga airport
2. On the way to Riga
3. At home in Riga
4. Shopping in Riga
5. Country life
6. A birthday
7. Midsummer celebrations
8. A bus journey
9. Flats and houses
10. The doctor comes
11. Business dealings
12. Sport
13. A bicycle trip
14. A dinner
15. A trip along the coast
16. Music and culture
17. The Latvian mass media
18. Jānis seeks his family roots
19. The family's last days in Latvia
20. Farewell
Verb conjugations
Key to excercises
English-Latvian glossary
Latvian-English glossary
Glossary of grammatical terms
Index of language points
Price
Buy it on Amazon.com ($55), Amazon.co.uk (£36), Globuss bookstores in Latvia (€60)
You can get all audio files for free on the publishers website.
Conclusion
If you are a complete beginner, this book will probably not be a good starting point to learn Latvian. If you are already familiar with grammar terms (noun, adjective, nominative, accusative, etc.) it could be useful.