Latvian in 25 lessons or Latviešu valoda. Mācību kurss 25 nodarbībām. by Asja Svarinska.
Here is what the author promises in the foreword:
The book was developed working with foreigners in the University of Latvia Language Centre.

It is intended for group work with a teacher's guidance but is equally useful for independent study.

A communicative approach to the language is dominant – there is no deep research of grammar and language characteristics.

This textbook consists of 25 lessons, so structured that the reader, mastering the most essential grammar concepts, can practise them in the related exercises and then use them in daily situations. Since English is used as the intermediary language for the lessons, translations are given in the book, either in the text or in the vocabulary attached to each lesson.

In compiling this textbook, the experience of local and foreign textbook writers and language methodology as well as the experience of the author in the LU Language Centre, testing these teaching materials in practice have been used.
As promised, there's no grammar explanation, you're on your own.
By communicative approach they mean that the book focuses on teaching you how to talk about yourself, how to ask questions to others and answer these questions about yourself.
Each lesson is centered around a theme. Like family, shopping, restaurants, seasons, etc. There are some lovely illustrations everywhere, so the book is not just a wall of text. There are excercises (translate, fill in the gaps, drill grammar concepts) but no answer key.
Pros
Each lesson has a theme
It's centered about you, which is what you want in the beginning
Lovely illustrations
Bite-sized grammar
Exercises
Cons
No grammar explanation
Not usable without prior knowledge or external guidance
No answer key
Typical lesson
Each lesson starts with a bit of grammar. There is practically no explanation.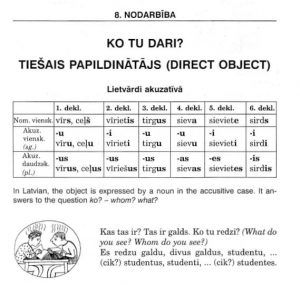 Then there are some exercises that you can do. Often you are asked to translate text or fill in the gaps.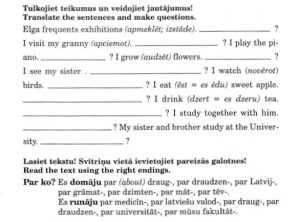 Sometimes there'll be a dialogue.

And some words for you to memorize.

Table of Contents
The ToC in the book is in Latvian. The ToC below is my translation.
Lesson 1. The Latvian Alphabet.
Lesson 2. What is it?
Lesson 3. Time and place: where? when? at what time?
Lesson 4: Who am I? What do I have?
Lesson 5: My family.
Lesson 6: I live in Riga, study at University of Latvia, but don't speak Latvian yet.
Lesson 7: Our house.
Lesson 8: What are you doing? Direct object.
Lesson 9: Cafe, restaurant.
Lesson 10: I'm going to the university and I'm coming back from the university.
Lesson 11: Shopping.
Lesson 12: Seasons and weather in Latvia.
Lesson 13: Teach and learn.
Lesson 14: Introductions.
Lesson 15: Person.
Lesson 16: What do you like?
Lesson 17: Conversations.
Lesson 18: Laughter is the best medicine.
Lesson 19: Riga and the Old Town.
Lesson 20: Healthy lifestyle.
Lesson 21: What do you have and not have?
Lesson 22: We are going to a party.
Lesson 23: I want to tell you about…
Lesson 24: My friend or my girl friend.
Lesson 25: What have you done?
Appendix:
Noun endings.
Prepositions.
Degrees of comparion of adjectives and adverbs.
Verb. I conjugation.
Price
You can buy it on Amazon.com ($32), Amazon.co.uk (£15), Zvaigzne.lv (€4)
Conclusion
This book teaches conversational Latvian, assuming you have zero knowledge and aims to help you reach the beginner level.
I would say it's useful if you have a teacher or someone to explain the grammar to you. If you are studying on your own, this book is simply not enough.