Teach Yourself Latvian: Complete Course by Terēze Svilane Bartholomew.
Reviews
There is nothing but praise for this book. Arguably, it's the best book to learn Latvian.
If you're studying Latvian on your own, this is the book to get. It's excellent.

As someone who lives and works in Latvia, over the years I have accumulated pretty much every book ever devised for learners of the language, including several no longer in print. This is the best, by some margin.

This is definitely a recommended book for the beginning Latvian student.

I must say how impressed I am with this book!

This is a great book for building up confidence in the language. It moves swiftly from the basic to fairly complex material by the end

I highly recommend this book/CD set to anyone learning Latvian, from very beginner to intermediate.

this one is definitely the best … you'll find that it is the best existing method to learn Latvian at this date.
Everyone loves how the book is structured:
It proceeds at an excellent pace and is very well edited

This is not a grammar. If you are looking for a litany of declension and conjugation charts, you will be disappointed. Instead, concepts are introduced as necessary.

While it won't make for a great reference work in my opinion, it is an excellent tool for introducing the language and culture. It will get the reader moving in Latvian, quickly and easily – and enjoyably.

Readers are introduced to culture and language, rather than language alone.
Is it better than Colloquial Latvian?
I would particularly like to note how vastly superior this course is to the rival "Colloquial Latvian" course which starts confusingly and rapidly degenerates into a bewlindering chaos of grammar. Ironically, "Teach Yourself" is actually far more colloquial than "Colloquial Latvian".
Cori Rozentāle gave a glowing review of this book on her blog.
Check out George's in-depth review on Amazon. The title of the review is This Will Help You Fall In Love With Latvian.
Typical Lesson
There is a summary of what you're going to learn in this chapter.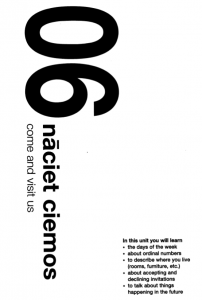 A dialogue is presented right away.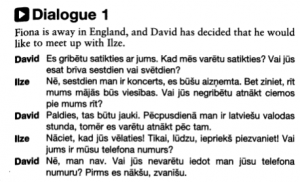 Along with a vocabulary list.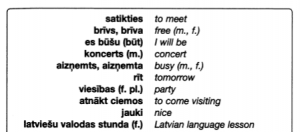 Several language points explain various bits of Latvian grammar and usage.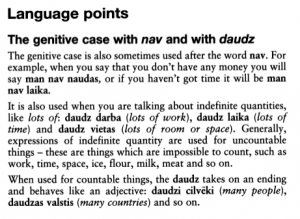 Sometimes there's an aside that tells you about the Latvian culture.
Toward the end of the chapter, you can practice with various exercises.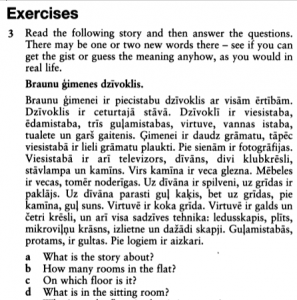 And there are transcripts in English for all dialogues presented in the chapter.

There are 6 to 8 dialogues in each chapter, followed by several language points.
Table of Contents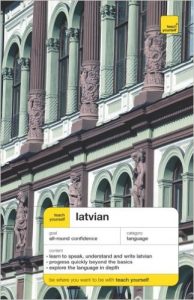 Introduction
1. Nice to meet you
2. Do you speak Latvian?
3. Let's get acquainted
4. We live not far from the station
5. This is my family
6. Come and visit us
7. Bon appetit!
8. Let's go shopping
9. At what time did he ring?
10. Straight ahead
11. Money can't buy health
12. Oh, how nice!
13. Tell us about yourself
14. Have a nice trip!
Key to the exercises
Latvian-English glossary
Grammar reference
Taking it further
Price
You can buy it on Amazon.com ($70), Amazon.co.uk (£84)
Conclusion
This is the best book to learn Latvian if you are a complete beginner.
But I think it might be superceded by Complete Latvian. If you are tempted to buy Teach Yourself Latvian, hold off until I review Complete Latvian which is written by the same author.